Martinez Takes Helm as IAM's 14th International President
Bob Martinez, Jr., officially became the 14th International President in the IAM's 127-year history after taking his oath of office at IAM Headquarters in Upper Marlboro, MD. Martinez takes over for former International President Tom Buffenbarger, who retires after more than 18 years as the IAM's top officer.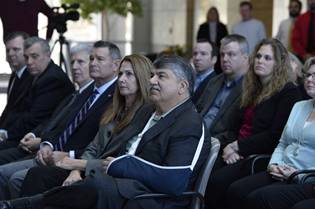 AFL-CIO President Richard Trumka looks on as Bob Martinez, Jr. is sworn in as the IAM's new International President. (Photo by Kaveh Sardari / Page One Photography)
Martinez will serve the remainder of Buffenbarger's current four-year term, which concludes July 1, 2017. Former Southern Territory Special Representative Rickey Wallace was sworn in to take Martinez's place as Headquarters General Vice President. Click here for photos of the ceremony.
"I am mindful that I stand on the shoulders of giants," said Martinez, who was surrounded by Buffenbarger, former IAM International President George Kourpias, AFL-CIO President Richard Trumka and members of the IAM Executive Council.
Martinez thanked his predecessors, pledged to safeguard the interests of the IAM members and vowed to make the tough decisions necessary to propel the IAM into a future that promises to see a continuation of attacks on working people.
"Our greatness and potential as an organization arises from our membership," said Martinez, a Texas native and 35-year IAM member who served in the U.S. Navy. "I will never forget that, nor where I came from."
"We live and work in an incredibly difficult and challenging time," continued Martinez. "From every corner, we and the work we do are under fire. The challenges we confront and real and they are substantial. However, I am confident about our future and our ability to do good work and make a positive difference in the lives of our members and working people across the United States and Canada."
Buffenbarger made his mark on the IAM by committing to organizing, financial stability and making the IAM's leadership team one of the most diverse in the labor movement. He steps down as the longest-serving International President in IAM history.
"I have been humbled to serve this great union," said Buffenbarger. "The reason we're here today is because the members of this union enabled us with the gift of leadership. This Executive Council takes that gift very seriously."
AFL-CIO President Trumka was on hand to welcome Martinez into his new role.
"The leadership of the IAM is more needed now than it has been in decades because of the relentless and well-financed attacks on working people every single day," said Trumka. "We need your leadership and we look forward to working with you and supporting you."