Quebec Machinists raise $37,500
Lachute, QC – More than 250 golfers lined up and swung their golf clubs to raise money for school-kids in Québec through the Maman Dion Foundation this past weekend. This annual fundraiser, organised by Québec Machinists, also had more than 300 people at the dinner, held after the tournament concluded.
Canadian General Vice-President Stan Pickthall, Chief-of-Staff Gord Falconer, Grand Lodge Representative Gary Hynes, as well as Aerospace General Vice-President Mark Blondin and Aerospace Coordinator Mark Johnson took the opportunity to participate in this great fundraiser after a full day touring the Airbus plant in Montreal, where members of LL712 build the A220 (formerly called C-Series) aircraft.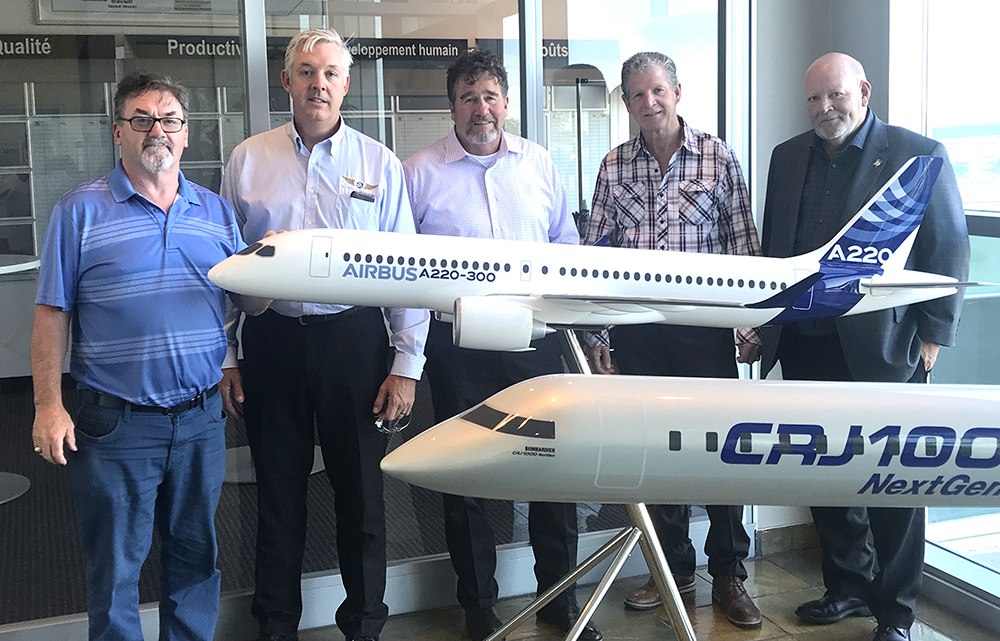 The event was organised by IAM District 11 Directing Business Representative Pierre Grenier, and Business Representatives Luc Morasse and DL11 Secretary-Treasurer Alessandro Bernardelli. "This tournament keeps growing every year and we continue to fill the two 18-hole courses in Lachute to near capacity," said IAM Québec Coordinator Dave Chartrand. "This year we raised over $37,500 from numerous donors, the Bombardier Employees Charity Fund, and with contributions from members of IAM Local Lodge 712," said a pleased IAM District Directing Business Representative Pierre Grenier.
 Pickthall praised the work being done by District 11, "AIMTA DL11 is doing good work out in the community and through the Maman Dion Foundation, they are helping children get the much-needed school supplies, eyeglasses, and clothing when they go back to school," he said.
Pickthall continued, "I heard a great man say this once: 'Every child in the world is the responsibility of every adult in the world.' It is our absolute duty to protect and nurture all children! The Foundation has taken on that challenge on behalf of Quebec's children since 2006. And they have for many years been supported by AIMTA DL11."
Pickthall thanked all of the activists, locals, and hard-working members who put together this great day. He also thanked the Maman Dion Foundation for caring about under-privileged families and for their children. Finally, he thanked all participants and sponsors for their donations to the foundation – all for a great cause, because kids are our future!
The Maman Dion Foundation provides children from disadvantaged backgrounds in Montréal and all regions of Québec with basic school materials, clothes and glasses following an examination by an optometrist. The Foundation encourages academic growth, self-esteem and desire to succeed. Their website is at: http://fondationmamandion.org/en/the-fondation/
– 30 –
———————-
This article was originally posted on the IAM Canada website. View the original post here: Quebec Machinists raise $37,500