Review of the 32nd FTQ convention
After four days of work, the 943 delegates were able to debate and deal with some 95 resolutions, participated in conferences, worked in committees, took stock of the main issues supported by the FTQ and adopted two policy statements. (occupational health and safety and public and universal drug insurance).
Issues related to technological change, health and safety at work and the environment played an important role throughout the last FTQ Convention.
Faced with the massive influx of new technologies in all workplaces, delegates provided the FTQ with an action plan on the subject. This action plan will serve as a guideline to ensure that workers in Quebec are not the big losers of the 4th industrial revolution.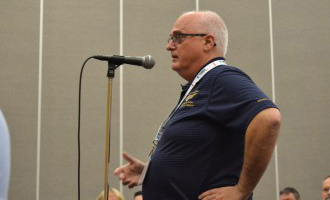 Pierre Grenier (District 11) speaking in the commission.
The role of the commission was to reflect on the entry of new technologies into the workplace.
Wednesday, at a rally organized by the Convention in front of the National Assembly of Quebec, workers expressed their dissatisfaction with the governments that turned a blind eye to the plight of victims of work-related accidents (occupational injuries). They also recalled that the Occupational Health and Safety Act must protect all workers.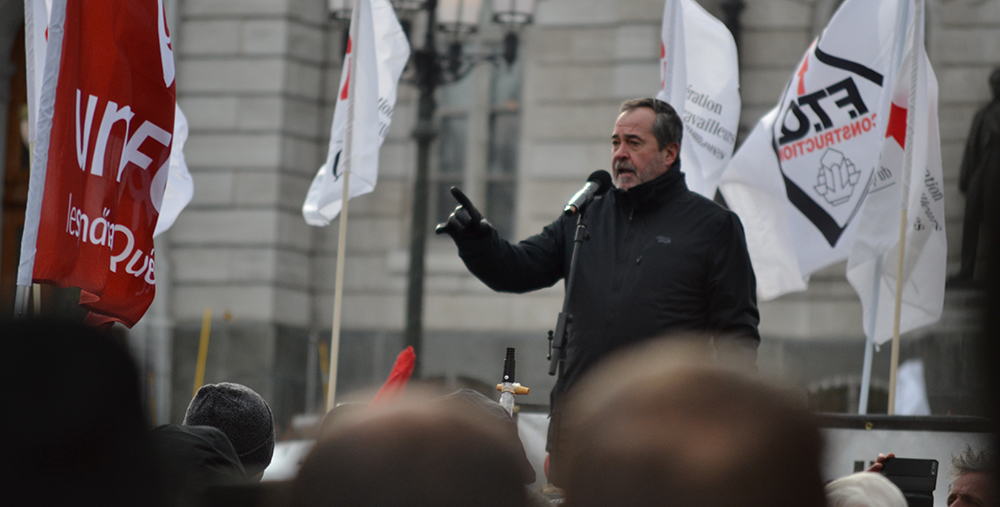 Image of the rally in front of the Quebec National Assembly to request more effective implementation of the Occupational Health and Safety Act.
Members of the National Assembly unanimously adopted a motion requiring the Minister of Labour that his bill on the reform of the Occupational Health and Safety Act cover all workers. The FTQ believes that the Government has made a formal commitment.
On the subject of environmental protection, the delegates reaffirmed the will of the trade union movement to mobilize all our forces in the fight against climate change, saying that this is a crucial social and political struggle regarding our future. They also agreed to continue the work towards implementing universal drug insurance.
Election
The 943 participants at the 32nd Convention of the Quebec Federation of Labor (QFL) confirmed the election of current president Daniel Boyer, who will hold a third term as president. As Secretary General, Denis Bolduc of the Canadian Union of Public Employees (CUPE) will take over from Serge Cadieux.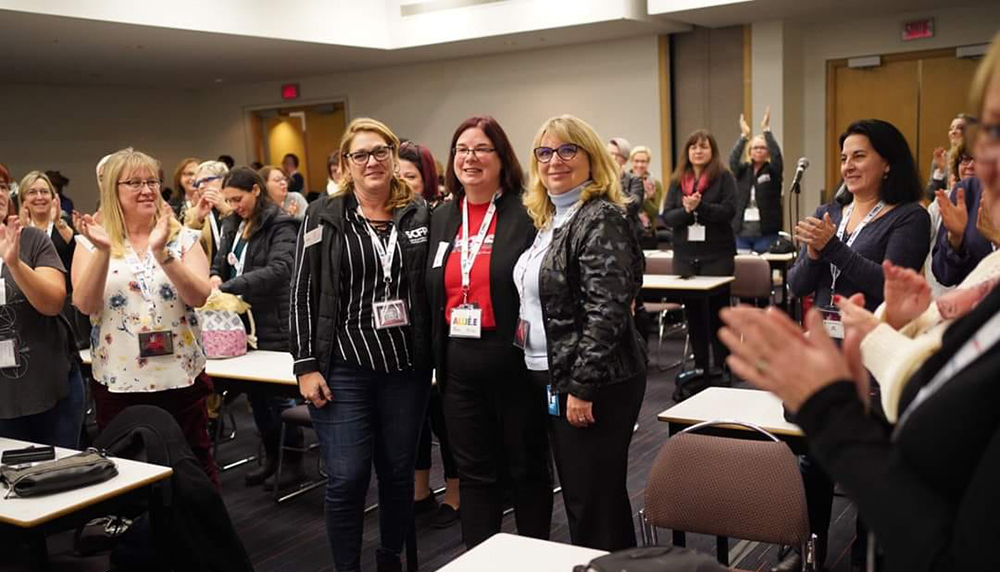 Louise Michaud, (SL 869) was elected vice-president representing women of the FTQ.
She poses here with France Paradis, (Unifor) and Joëlle Ravary, (CUPE) who will also act as vice-presidents representing the women of the FTQ.
Delegates also nominated 15 Vice-Presidents and Executive Vice-Presidents for the next three years. The IAM will be well-represented at the federation with two representatives: Louise Michaud was elected as Vice President of the FTQ representing women and While David Chartrand will occupy the position of Vice President representing the IAM.
———————-
This article was originally posted on the IAM Canada website. View the original post here: Review of the 32nd FTQ convention