Lighting Hope – LL 2323 Young Machinists Raise Funds for Women's Shelters
The domestic and intimate partner violence predicted by many advocates due to the COVID-19 pandemic is proving to be well-founded. Incidences of domestic violence appear to be triple what they normally are. The pandemic, which obliges more people to stay at home together, makes a bad situation even worse.
The Young/New Machinists Committee of Local 2323 are thinking globally and acting locally. They are fundraising to help deal with the terrible fallout from domestic violence as shelters must deal with many more cases. They are selling scented soy wax candles to raise funds.
"Federal and provincial governments have recognised the pandemic as a significant problem. We know it isn't enough so we decided to play our part and help in whatever way we can," said Nicole Tappenden, LL 2323 member of the Young Machinists. "This is about all of us helping each other."
You can play YOUR part in helping by purchasing candles – one for $25 and two for $40. The proceeds will go towards shelters who are experiencing a higher need due to the rise of domestic violence.
Pre-ordered candles will be available for CURBSIDE PICK-UP on one day only on June 5th from 11:00 am to 4:00 pm at the IAM LL 2323 offices at 2580 Drew Rd., Suite 202, Mississauga, Ontario L4T 3M5. Their phone number is 905-678-0010.
Candles can also be mailed out.
If you would like to help, please send an E-Transfer to ym@iamaw2323.ca
The password is: Hope
You can also send a cheque to Local 2323 to the above address. Simply add your address in the memo line. See the poster below for full details.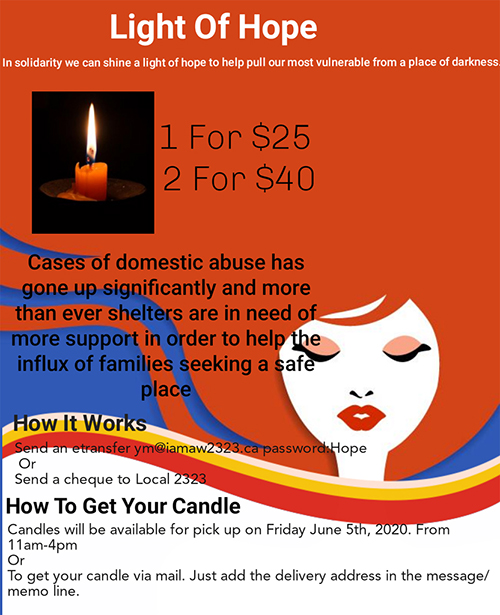 ———————-
This article was originally posted on the IAM Canada website. View the original post here: Lighting Hope – LL 2323 Young Machinists Raise Funds for Women's Shelters