"Service to the Community" in action
Despite hardships local lodges continue to face during this pandemic, the spirit of IAM's motto, Justice on the job, Service to the Community is unbreakable. Evidenced by several initiatives by locals to serve their community, their actions of kindness and generosity are glimmers of hope in otherwise dire circumstances. The unrelenting commitment speaks to the kind of community the IAM is, in our own time of need, we find it within ourselves to selflessly give to others.
In late fall, local lodge 2921 organized a food drive. As a result, the local was able to donate food to two worthy causes; Seva food bank, a not-for-profit organization that engages Sikhs in local community-focused initiatives that benefit all Canadians. Seva's work address the challenges of food security, poverty reduction and economic renewal for low-income families living in Mississauga. Another donation was made to Interim Place in Mississauga, an organization that assists women and children leaving situations of domestic violence. A special thank you goes to Kuldip Bal, and Lissa Nevins for taking the initiative and personally delivering the food.
Similarly, local lodge 2323 has been running a food bank for the last year. Donations are gathered internally by members for members, and individuals are free to pick up a hamper anonymously. For many, this has been a lifeline, and the food bank will continue to run for as long as members need it. The local has also ran fundraisers for Sick Kids, and in support of IAM frontline workers. The initiatives were spearheaded by the local's Women's Committee, and the Young Machinists, chaired by Kari-Lyn Airhart, and Nicole Tappenden.
The greatness of character of our members, and our union community shines through efforts to continue service to the community, despite the challenges they themselves face.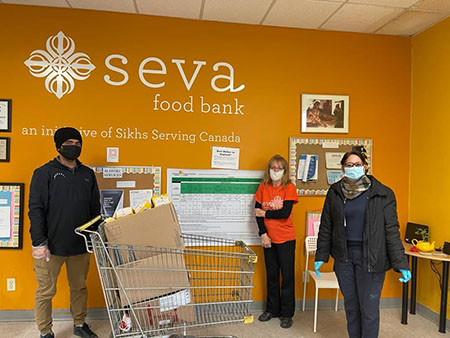 ———————-
This article was originally posted on the IAM Canada website. View the original post here: "Service to the Community" in action