IAM members stand in solidarity with CUEFA workers on the picket line
Edmonton, AB – IAM members in Alberta showed true solidarity when they joined the picket line to support education workers. A landmark strike in Alberta's history was ended on 15 January, 2022 when the workers ratified a tentative agreement. The Concordia University of Edmonton Faculty Association (CUEFA) members went on strike on January 4, making history as the first Alberta faculty association to take job action.
Kyle Franzen and Paul Chandler, members of IAM Local 99, went out to support the strike and encourage the workers to stand strong. CUEFA represents the interests of all probationary and permanent faculty members, professional librarians, laboratory instructors, and field placement coordinators.
CUEFA President Glynnis Price sent a letter saying, "On behalf of all CUEFA members, we would like to thank the members of the International Association of Machinists and Aerospace Workers for joining us on the picket line. We were fortunate to meet Kyle Franzen, and Paul Chandler.
"Your actions highlighted the importance of supportive work environments and negotiating a fair and equitable collective agreement for all members of our sector. So many people came, from near and far, and we are grateful for the time you took to, literally, show up for your colleagues. Your attention and support helped uplift our spirits every step of the way," said Price.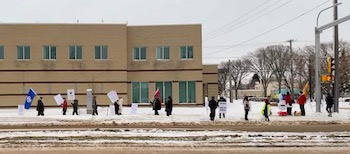 Kyle Franzen, Business Representative and Organiser for IAM District 14, said, "It was encouraging to see a group so solid; it took a lot of hard work. They had a number of different classifications, more than the typical faculty, which was used to divide them. But they held firm and showed their solidarity."
They were joined on the picket line by dozens of students, community allies and members from other faculty associations. Over 1350 individuals and organizations from across Canada sent messages to the university administration to put the interests of "students and staff before profit," and a student-run petition gained more than 500 signatories supporting the faculty.
For more information:
Kyle Franzen
kranzen@iamdl14.org
———————-
This article was originally posted on the IAM Canada website. View the original post here: IAM members stand in solidarity with CUEFA workers on the picket line