The 40th IAM Grand Lodge Convention concludes – work done plots IAM path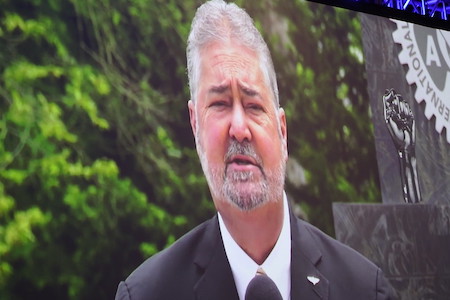 IAM International President Robert Martinez Jr. in his closing remarks to the 40th IAM Grand Lodge Convention said, "If you had any doubt about what this union is about, I hope you go home knowing that the IAM is here for you. The IAM is here for your family, and the IAM is here for your community," he said.
"Yes, we negotiate contracts that allow our members to live the lives they deserve. Yes, we fight for legislation that benefits our members. Yes, we bring justice on the job and service to the community all across the continent," said Martinez. "We do all of these things and more and we do it better than any other union in North America!"
The delegation gave Martinez a standing ovation for his leadership through Convention and each and every day as the bold and respected leader of the Fighting Machinists.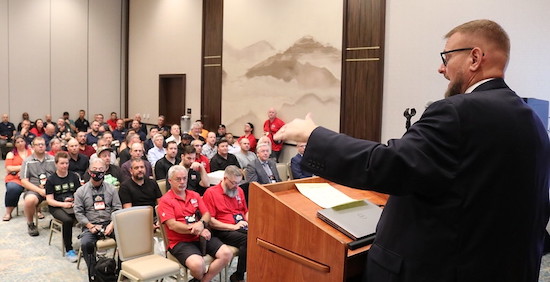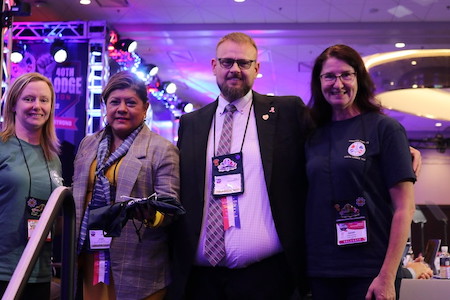 Attending his first-ever Grand Lodge Convention as General Vice-President, Dave Chartrand had an opportunity to see what it takes to run the largest gathering of IAM members.
"I've attended many Conventions, but this was the first where I had a glimpse of what it takes to properly coordinate the many moving parts into a well-oiled machine. I want to thank every single person who worked behind-the-scenes to make this a successful Convention," said Chartrand. "I also want to thank the Canadians who made their presence known by participating in all aspects of this international convention and helping to make it the success it was."
In all, more than 200 Canadians attended as delegates, alternates, guests and staff, each adding to the North American flavour of the first Convention in six years.
Delegates had a chance to hear from many speakers: Americans, Canadians and a few international guests.
Some of the highlights include a recorded message from American President Joe Biden, U.S. Secretary of Labor Marty Walsh, AFL-CIO President Liz Shuler, CLC President Bea Bruske, American Federation of Teachers' Randi Weingarten, Steve Cotton, General Secretary of the ITF, as well as a panel on artificial intelligence chaired by IAM Canada's own Ivana Saula, entitled "Charting Change" How Artificial Intelligence is Affecting Workers."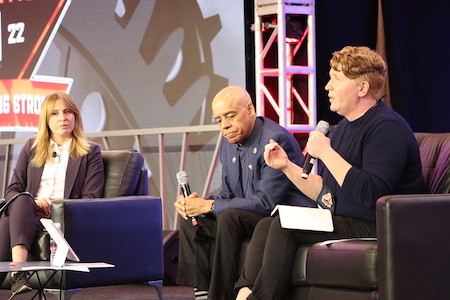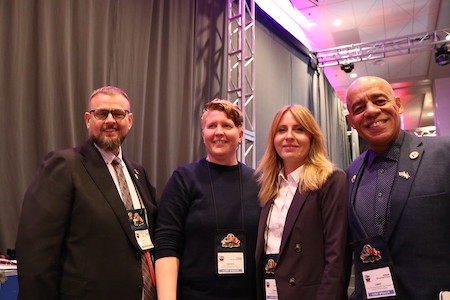 ---
IAM Canada also won three awards for organising new members into the IAM.
---
Convention delegates were successful in adopting key constitutional changes including making sure the IAM has enough organisers, disaster relief funding, future Convention funding, strike pay, implementation of electronic voting and the establishment of Women's, Human Rights and Veteran's Committees.
"The theme of our Convention has been I-A-M Standing Strong," said Martinez. "We STOOD STRONG through the pandemic. We STOOD STRONG through attacks on our union. We STOOD STRONG because of all of you. And we STOOD STRONG this week to make historic changes to our union. This is what union democracy looks like, Brothers and Sisters."
Martinez expressed his deep pride and gratitude to the membership for their solidarity and participation in voting on resolutions and amendments that will guide the union through the next two years. He brought down the gavel once more to close the largest meeting the union holds every 4 years.
"Are we ready to STAND STRONG today, tomorrow, and forever?!" said Martinez. "I declare this 40th Quadrennial Grand Lodge Convention adjourned!"
---
To see photos from the Convention, please visit our Flickr albums
https://www.flickr.com/photos/iamawcanada/albums
---

———————-
This article was originally posted on the IAM Canada website. View the original post here: The 40th IAM Grand Lodge Convention concludes – work done plots IAM path